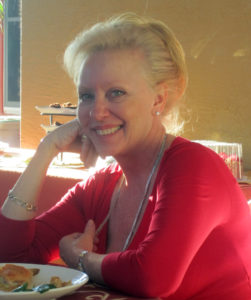 My goal is to enable you to enjoy finding exactly the right property for your new home.

Being a resident at Mt. Olive Shores North I have the expert knowledge to help my neighbors sell their properties and do so in a comfortable, hassle-free manner so they may enjoy moving to their next property.

I am one of four daughters of Army Colonel, Douglas C Dillard, who served our country for 30+ years. Dad entered the Army during WWII when he was only 16 years old and had a most distinguished career. He is named in 2 Hall Of Fame museums and has been featured on the History Channel. I was named by my father and it's my honor to proudly wear his name. Like most military kids, I traveled extensively with my family, spending 8 years of my childhood living in Germany. For summer vacations, we enjoyed camping together all over Europe in tents and our VW camper; I think this is where I first began to love the freedom and adventure of an RV lifestyle.

I began motor-homing in 1989 and added motorcycling to my adventures in 1996. I lived full-time in my RV for almost 8 years and enjoyed every minute of it. As with most RV'ers, I have many happy memories and stories, which I like to share with friends. And I'd love to hear about your adventures too!

Some dear friends introduced me to this wonderful RV community. Pete and Barbara Putnam were the 6th purchaser in Mt. Olive Shores North in 1998. I started renting a pad in Mt. Olive Shores North in 2003. In 2006, I bought a lake lot, designed and built my current home. I enjoyed our community as a snowbird, until I was able to become a year round resident in 2013. It has been a joy to watch this wonderful RV community develop and to actively participate in it's continuing growth.

I was fortunate to have started selling real estate exclusively in Mt. Olive Shores North in November 2016 to focus on "re-sale for privately owned properties". I'm proud of generating over 27 million dollars gross sales in my first    3 1/2 years in Mt. Olive Shores North.

I found out quickly how much I loved meeting my new friends and neighbors while helping them find their place to call home or winter home at Mt. Olive Shores North. I've sold over 175 properties during my career selling real estate at Mt. Olive Shores North. In June 2020, I opened my own real estate brokerage business. I choose my company name carefully,  BestPropertiesOffered,  because that what we list and sell.  I continue to be committed to keeping real estate sales ever growing for the benefit of my clients and neighbors.

My father taught me the values of honesty and integrity, both of which have enabled me to achieve success in the business of real estate. I promise to work hard to ensure that your purchase or selling experience will be pleasant, without pressure, but with many happy memories and lots of laughs along the way.